The Villa was built in 1550 for Cardinal Ippolito II d'Este. Designed by the architect Pirro Ligorio, it is famous for the sumptuous garden, statues, monuments and above all the great fountains...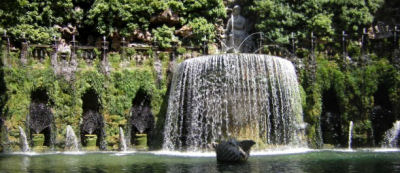 The palace

Time-tables and tickets

Time-tables:

Opened from 9 a.m. to 1 hour and half before sunset
Closed on Monday and 1st Jan, 1st May and 25th Dec

Tickets:

€ 8,00
€ 4,00 (for EEC citizens from 18 to 25 years old)
free (for EEC citizens under 18 or over 65 years old)

Phone: 0774 312070

The one hundred Fountains is one of the most beautiful, unforgettable and photographed places. It was chosen for the spot of different movie. It is a tree-lined avenue that joins the Fountain of Tivoli (or Ovato) to the Fountain of Rome (or Rometta). The fountain is structured on three plans...