Saracinesco, located about 50 km northeast of Rome, is perched on a rocky outcrop towering 908 m above the Aniene river valley, in the hearth of Ruffi Mounts. It is a very picturesque place, founded by a band of Saracen raiders from North Africa around 890 A.D....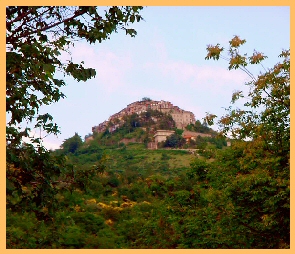 Saracinesco

To see

Benedictine fortress (XI century)
Ruins of the roman aqueduct "Anio Novus"
Church of S.Michele Arcangelo (XIII century)
The museum of time
Saracinesco is a good starting point for some excellent walks in Ruffi Mounts

Informations

Trekking

The Giovenzano valley is an green valley along the Tiburtina Valeria, inside the Aniene river valley. The 7 municipalities of the Giovenzano valley are: Cerreto Laziale, Ciciliano, Gerano, Pisoniano, Rocca Canterano, Sambuci and Saracinesco. Those are very nice little towns surrounded by woods, green fields and mountains.

The name takes origin from its foundation by the Saracens that, according to the local tradition, in the last decades of the X century wildly sacked churches and monasteries of the Aniene valley.